Brightness, Colour & Optimism for 2021.
No apologies for diving in with a cliche, & stating the obvious, but we've made it through a tough year! The cracks have formed & now we must make the most of it as the light streams in illuminating towards a more optimistic year of brightness & colour.

Following up from a successful launch at the International Furniture Fair Singapore (IFFS) in 2019 (remember, when we could travel...) we have been working closely with our friends at Libeco Belgian Linen and our talented finishing experts in order to colour match the solid oak Talon Slot frames with some of their vibrant upholstery linens to great effect.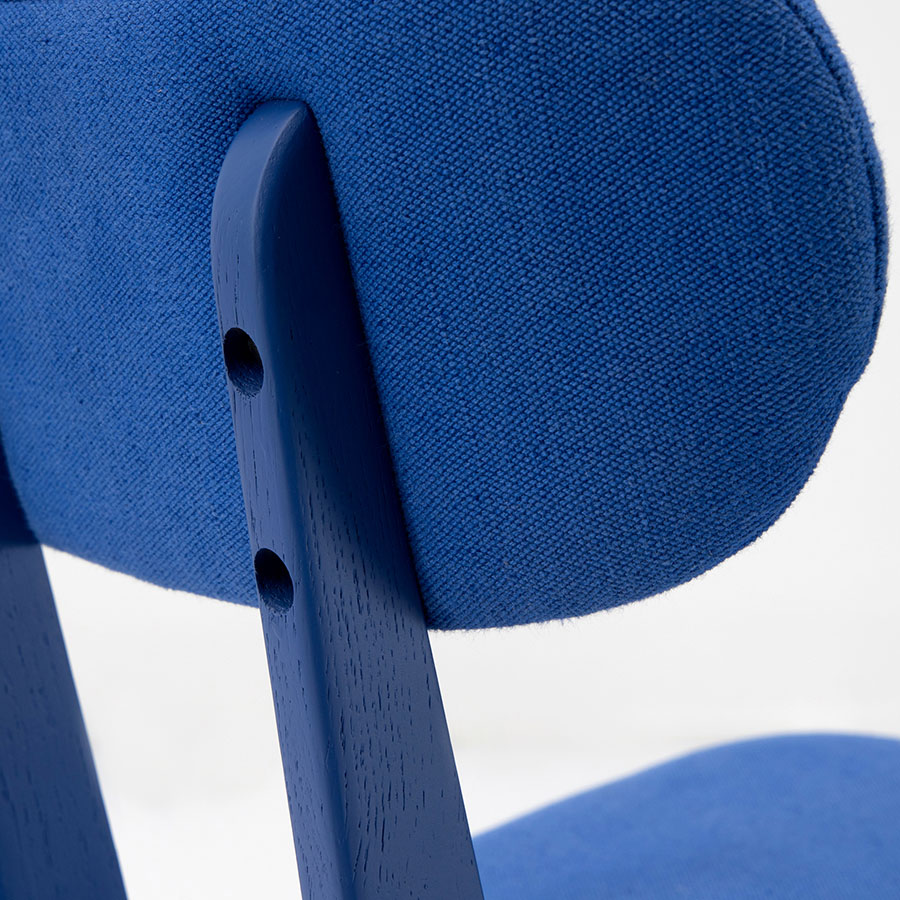 The CNC cut shapes slot together a dynamic silhouette that is emphasised in "block colour".

The saturation of mono colour surprise the senses by masking the qualities of two colour matched, yet contrasting materials that are only revealed upon closer inspection; the texture and touch of soft Klein Blue Belgian linen upholstery (shown here) buttressed against the hard frames of solid oak.

This playful use of mono colour on duo materials is more often seen in the fashionable sneaker industry with an upper paired with a colour matched rubber sole and matching laces.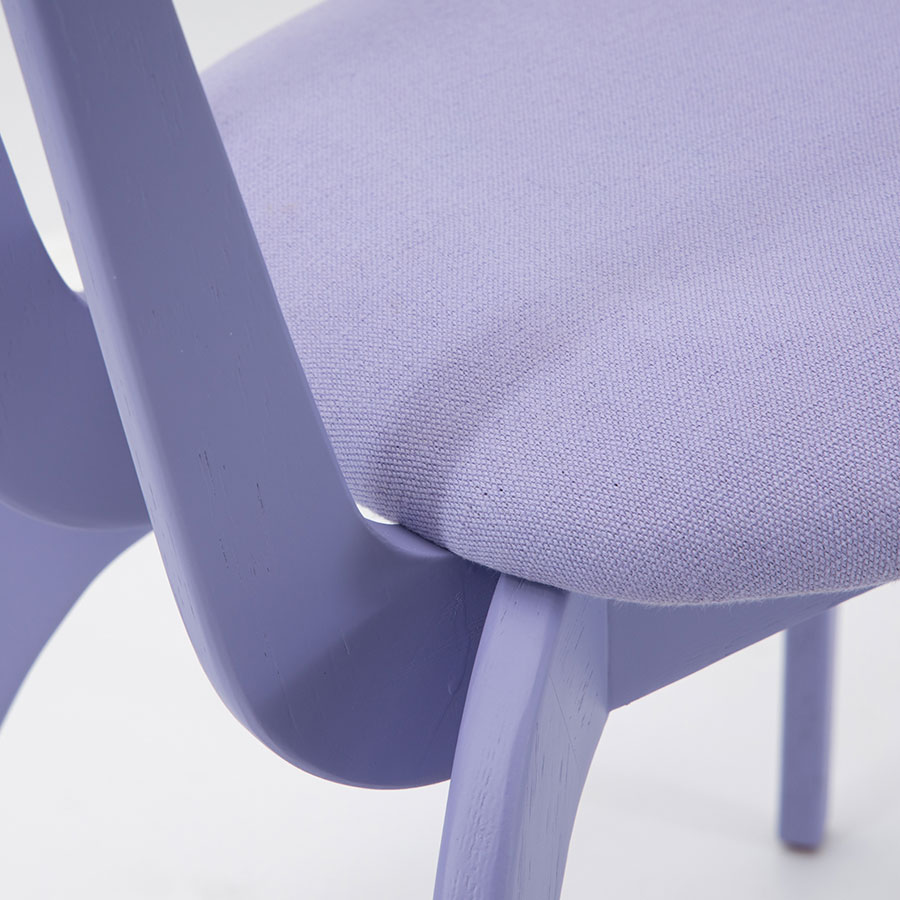 As a starting palette we have chosen to launch with a delicious selection of Klein Blue, Lavender, Glycine Pink and Thyme Green.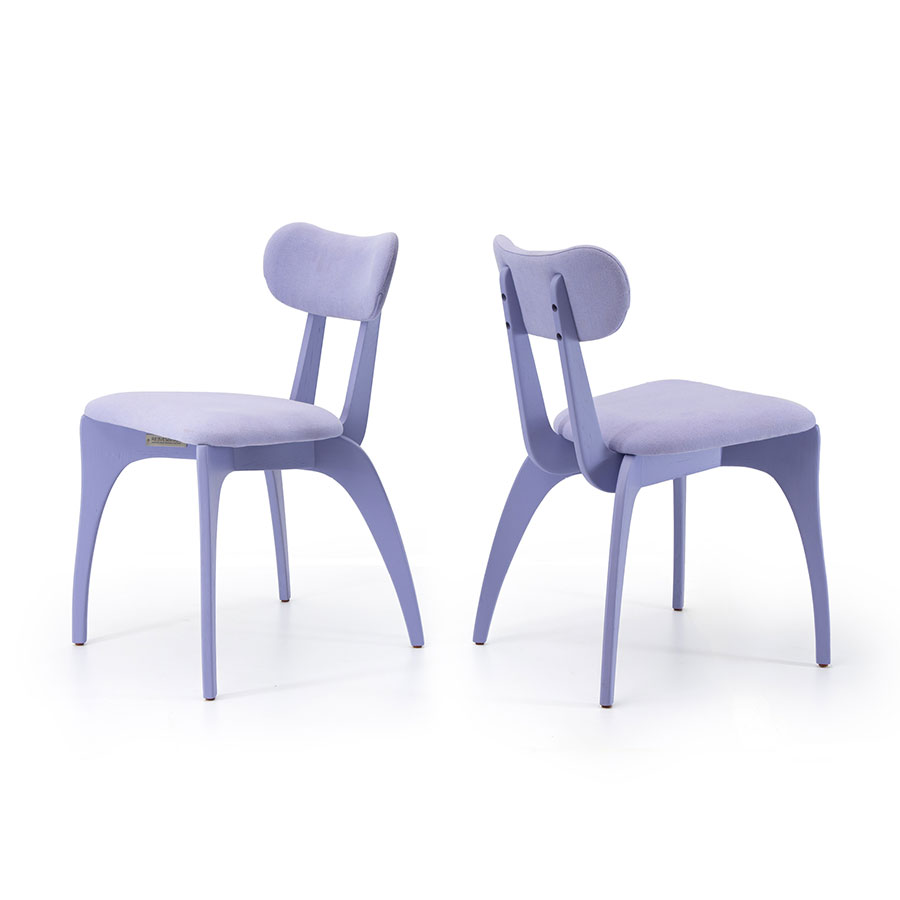 Above the Talon Slot Chairs in Lavender and below in Glycine Pink Libeco Belgian Linen on solid oak colour matched frames.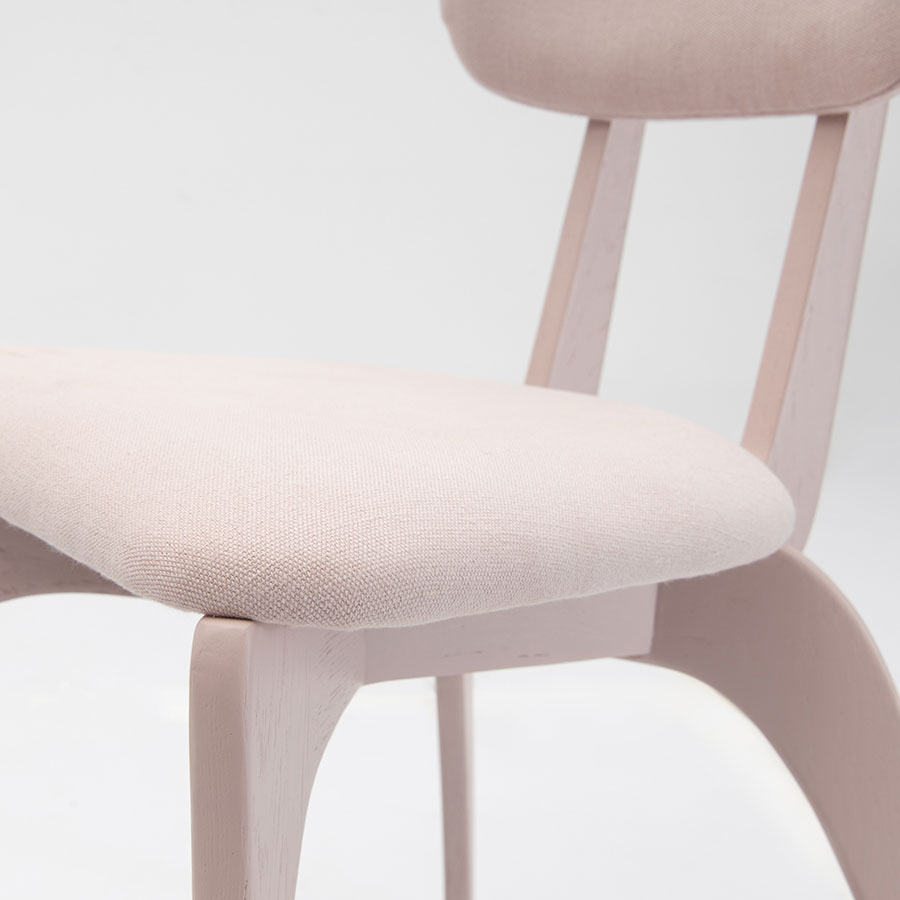 Talon Slot Chairs in Glycine Pink Libeco Belgian Linen on solid oak colour matched frames.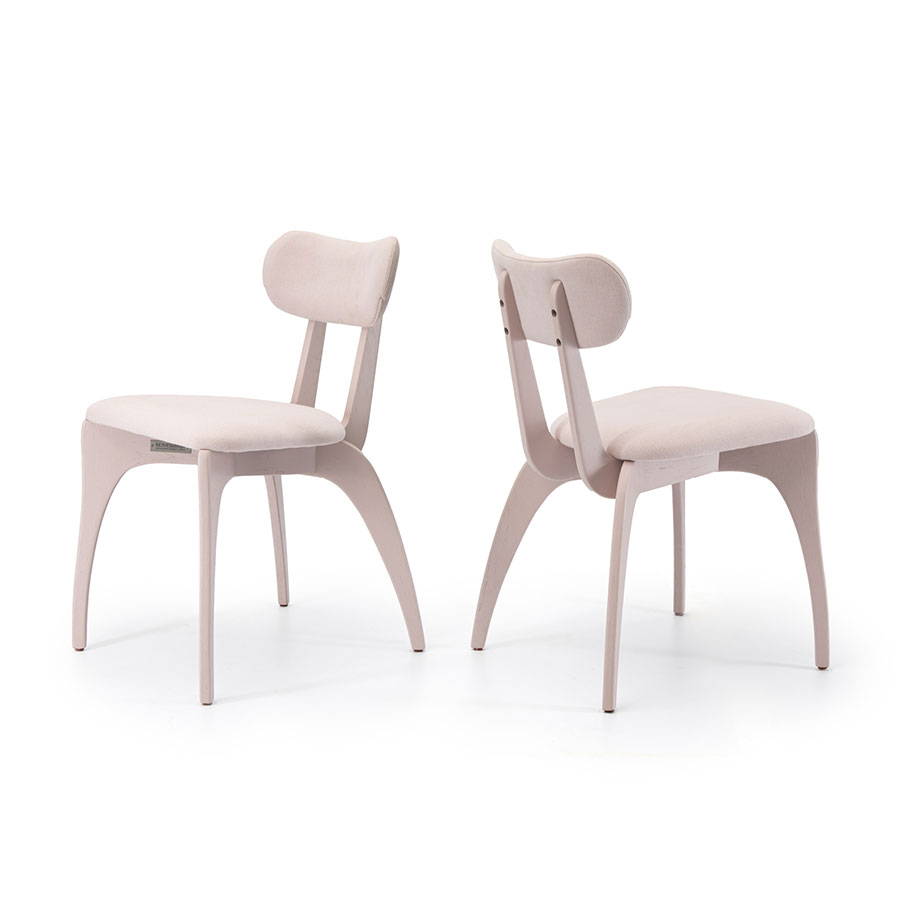 Above the Talon Slot Chairs in Glycine Pink and below in Thyme Green Libeco Belgian Linen on solid oak colour matched frames.
Talon Slot Chairs in Thyme Green Libeco Belgian Linen on solid oak colour matched frames.
We've added further functional and practical use to our "entry level" Talon Slot chair design by including a stackable option.
By simply broadening the "hip" of the rear leg, we have been able to straddle the seat of the chair below allowing a clean architectural stack.
We've come this far, let's head to the Lounge...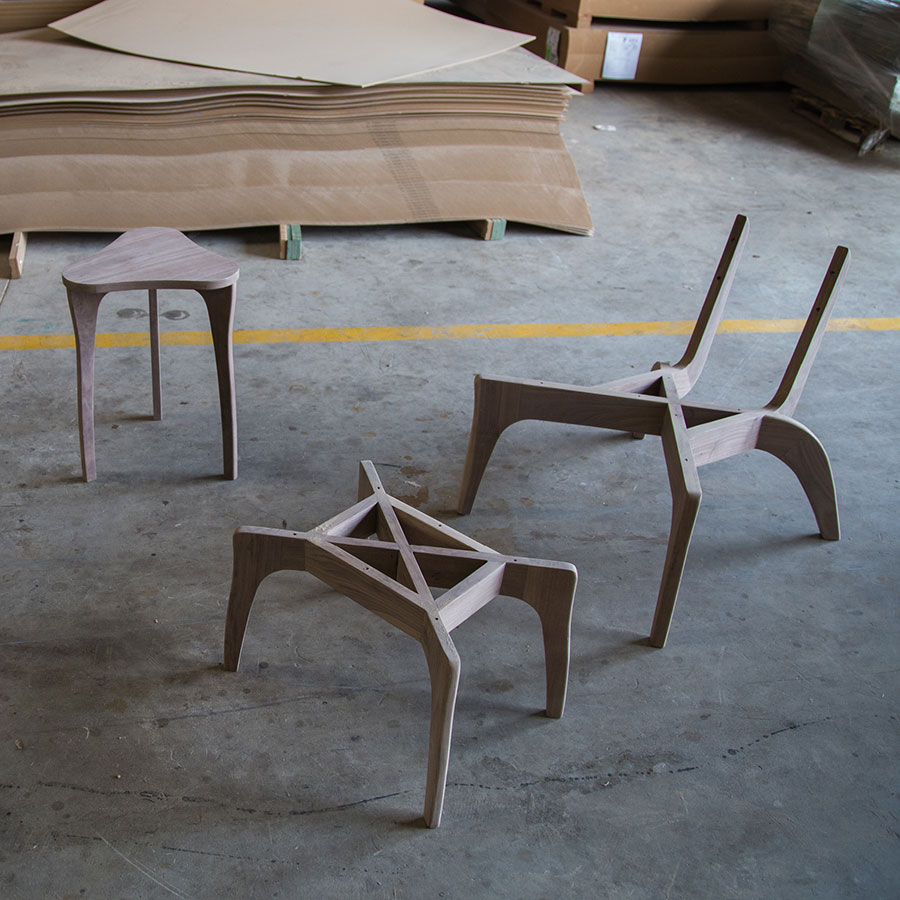 Intuitively, after the side chairs, dining table, cabinet, stacking chairs and even colourful ones we've now gone for adding the Talon Slot Petite Lounge Chair and Ottoman shown here in solid walnut and our tobacco leaf brown leather.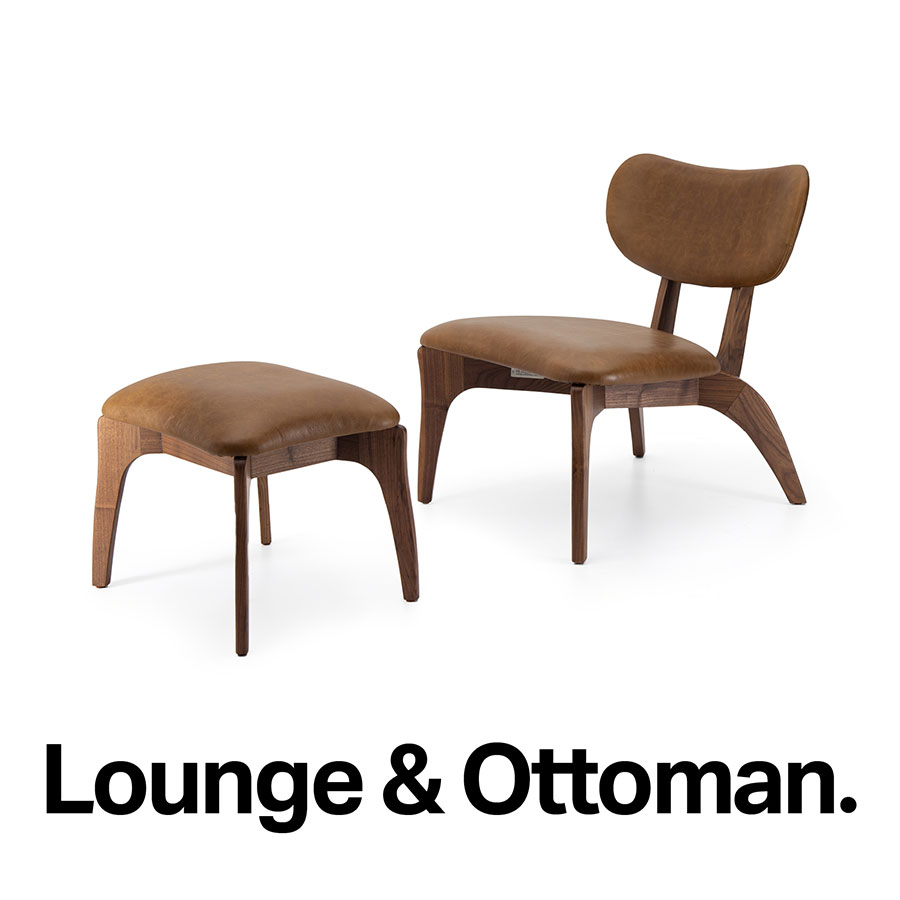 An obvious addition has been to include a Talon Slot Side Table, and with radius corners that accommodate a tripod of three legs it has evolved to have an almost Alvar Aalto inspired triangular shaped top.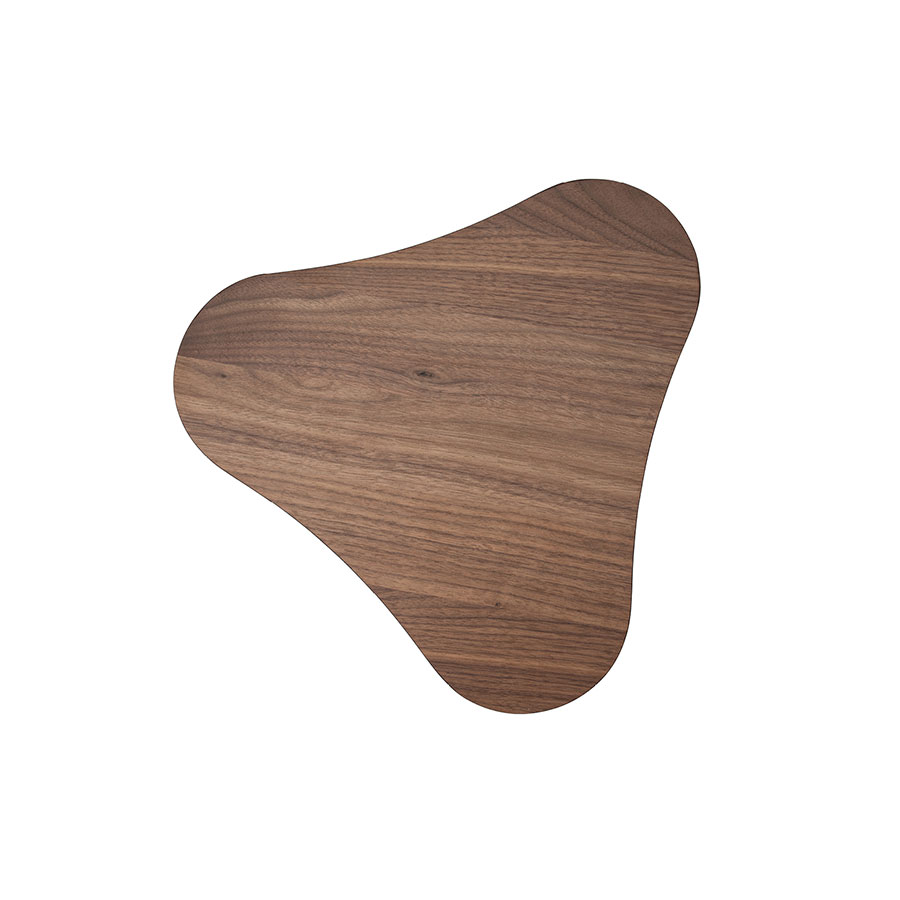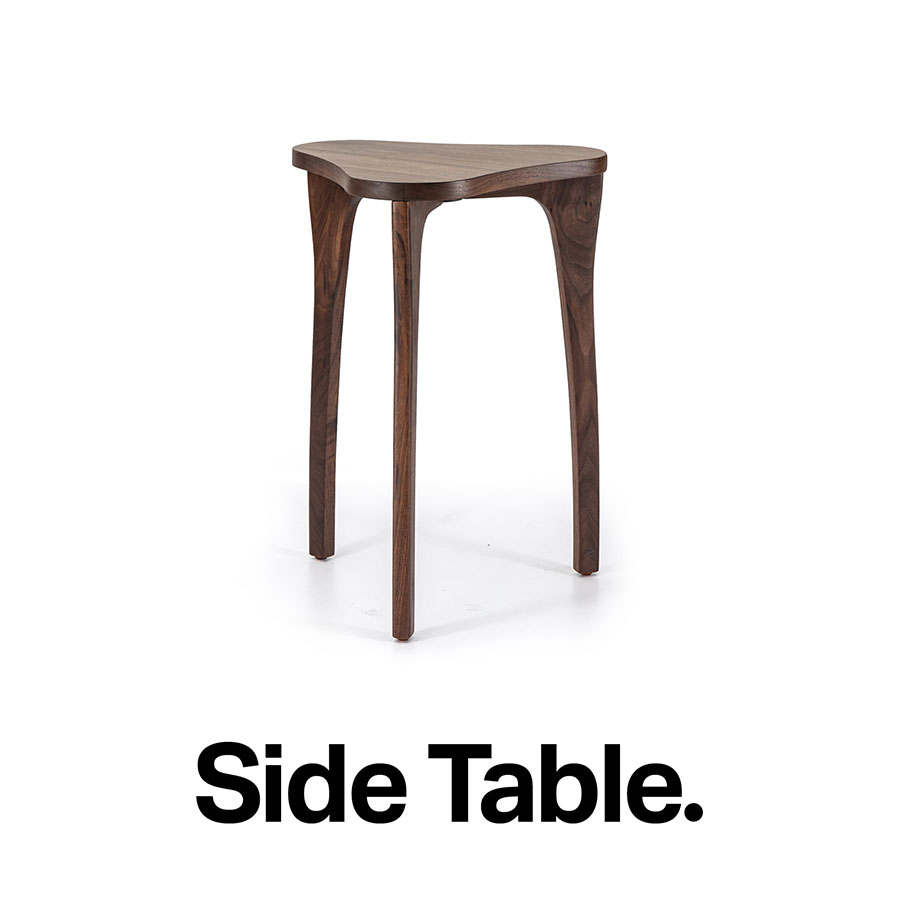 Talon Slot Petite Lounge Chair, Ottoman and Side Table grouping in solid walnut and our tobacco leaf brown leather.
A tried and tested standard to the Reeves shelving and storage offering has been the etagere, and here we hope you agree the Talon Slot Etagere does not disappoint.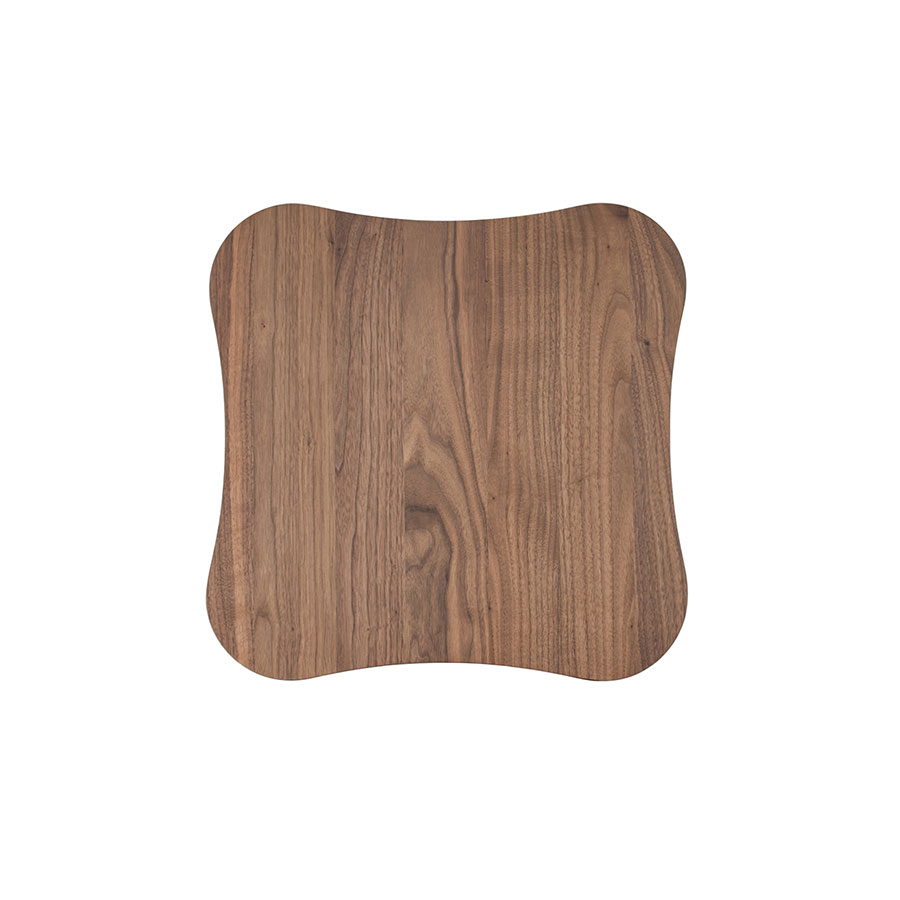 Working well free standing or in a corner or alcove of the room, the Talon Slot Etagere offers a compact showcase with incremental height for your collectables, objet and knick - knacks.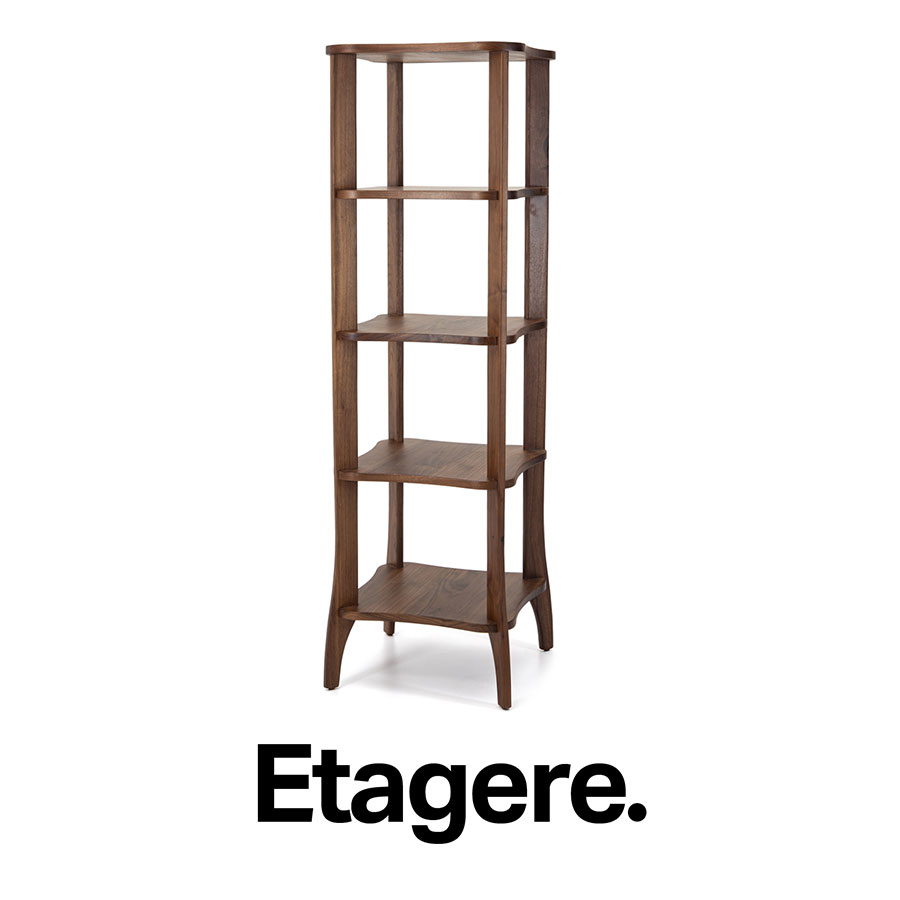 Talon Slot Etagere, Petite Lounge Chair and Ottoman in solid walnut and tobacco leaf brown leather.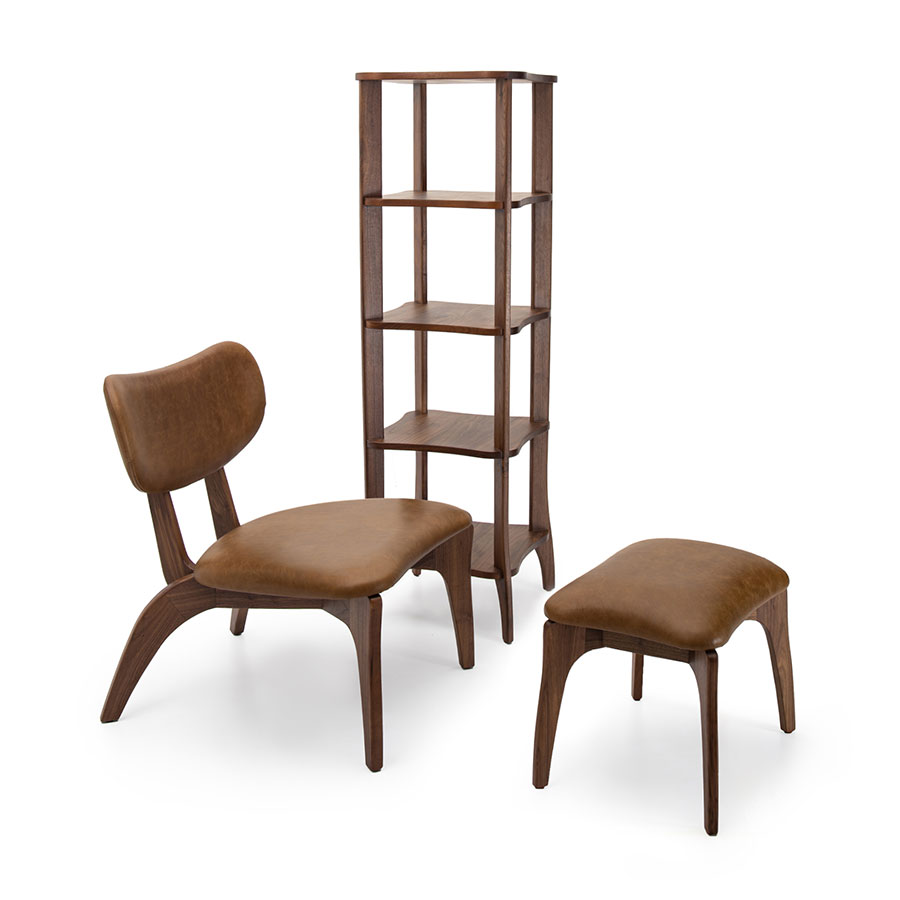 Frames are like structural bones as seen in the natural light of the factory.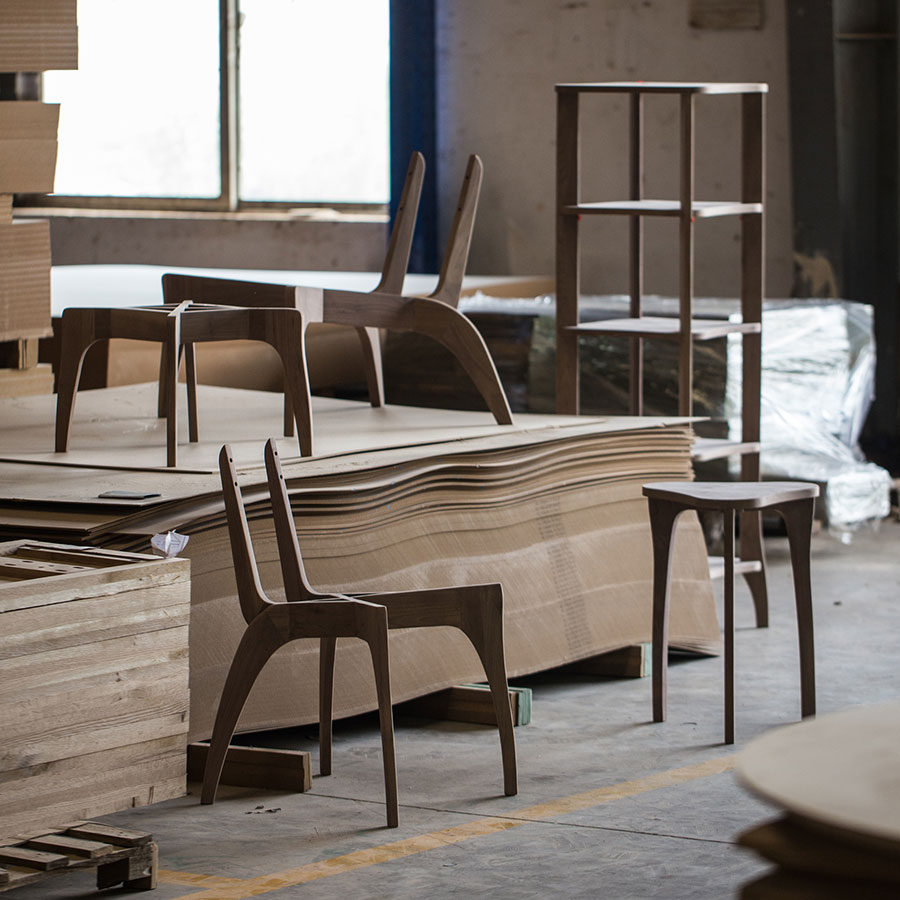 Image below courtesy of our friends at Norhor, showing the Talon Slot Side chairs in solid walnut and our tobacco leaf brown leather.
Image below courtesy of our friends at Norhor, showing the sumptuous and dramatic curves of the Talon Slot Cabinet.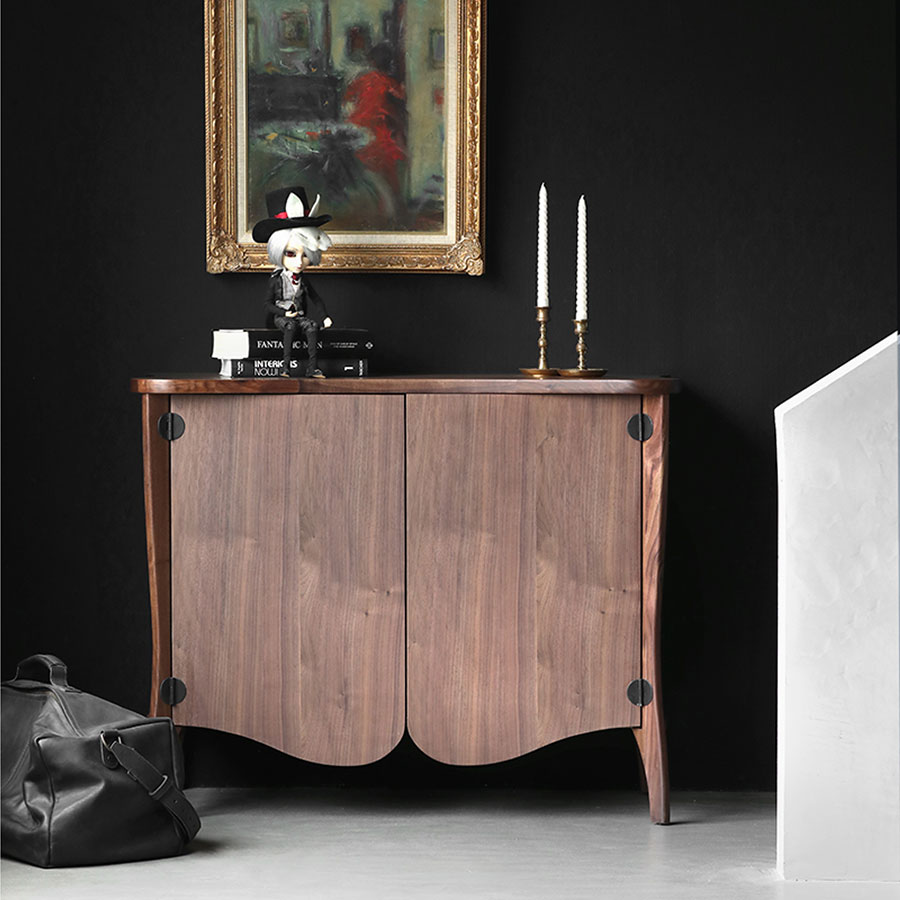 Finally to complete the Talon Slot range so far, here is an other image courtesy of our friends at Norhor showing the Talon Slot Dining Table in solid walnut.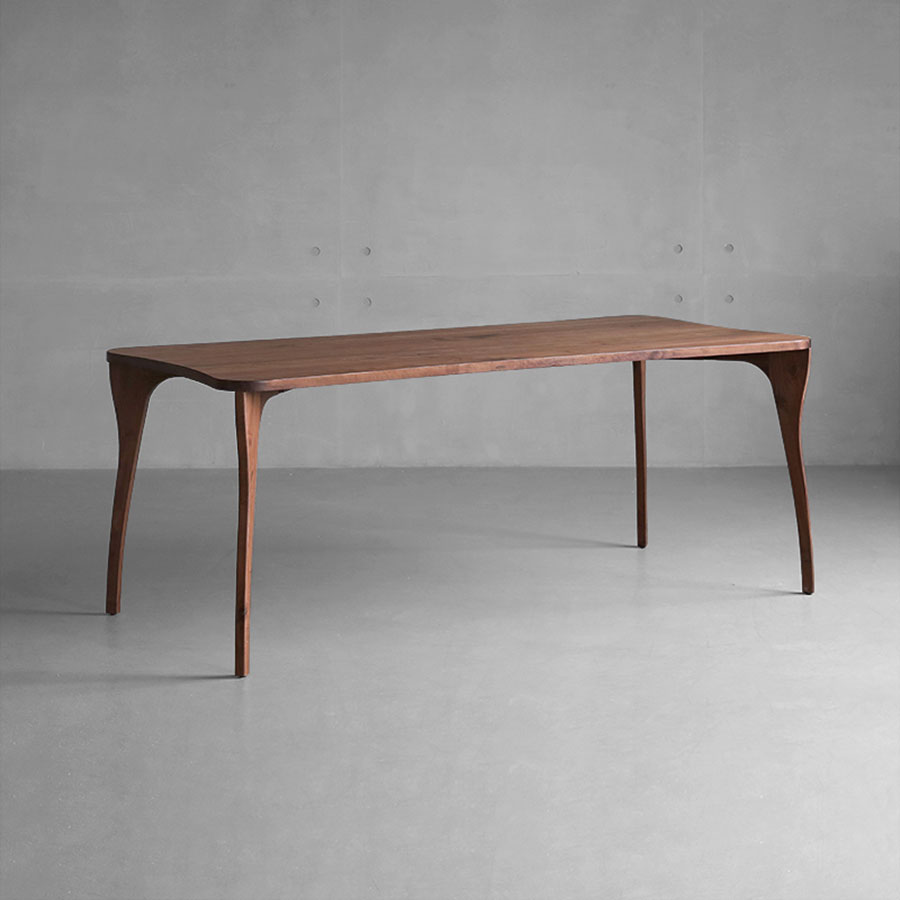 Moving on... The enduring success of the Upcycled Marble collection has empowered Reeves to revisit the range with some important additions including Console tables, Side tables and Coffee Tables, all of which are perfectly proportioned and contract ready.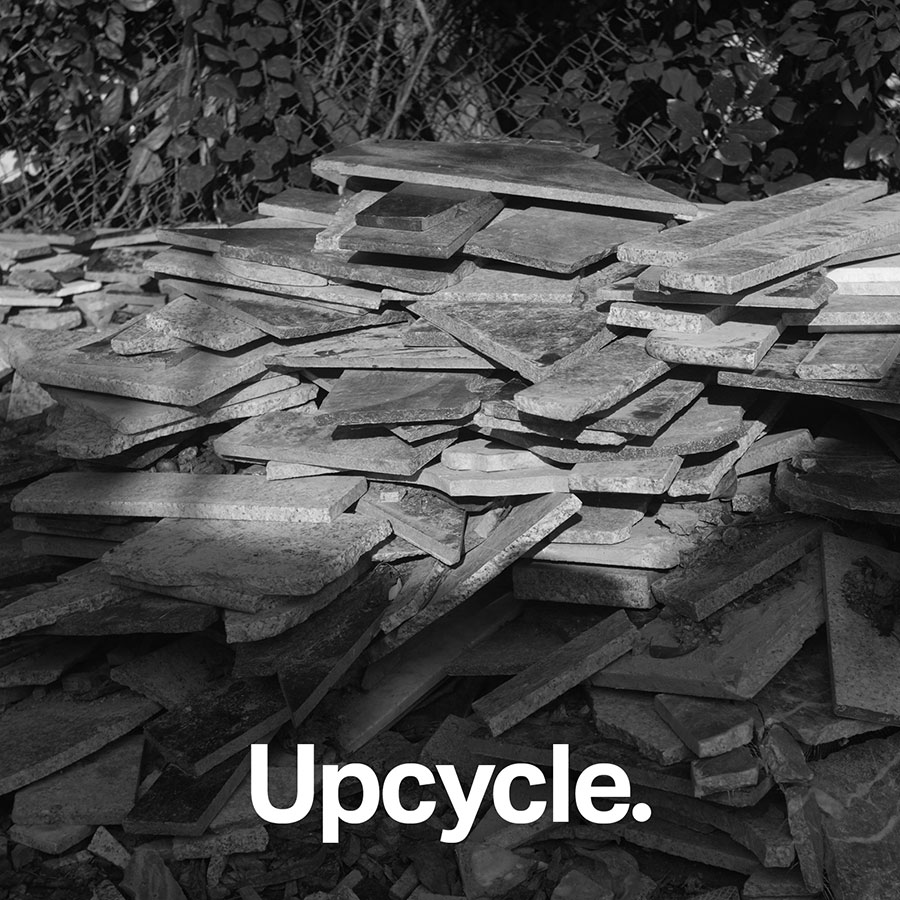 "Inspired by countless hours on the motorbike driving between our various factories and suppliers I consistently noticed the abundance of scrap marble and granite piling up on the side of the road outside the multitude of tradesmen's workshops. These tradesmen were cutting slabs and sheets of good quality stone to size for commercial cladding, flooring, kitchen worktops, you name it... I knew that some of the scrap would eventually be collected and pulverised down for use in terrazzo, but a lot of it would just be submerged in cement as concrete aggregate or worse, merely buried as rubble!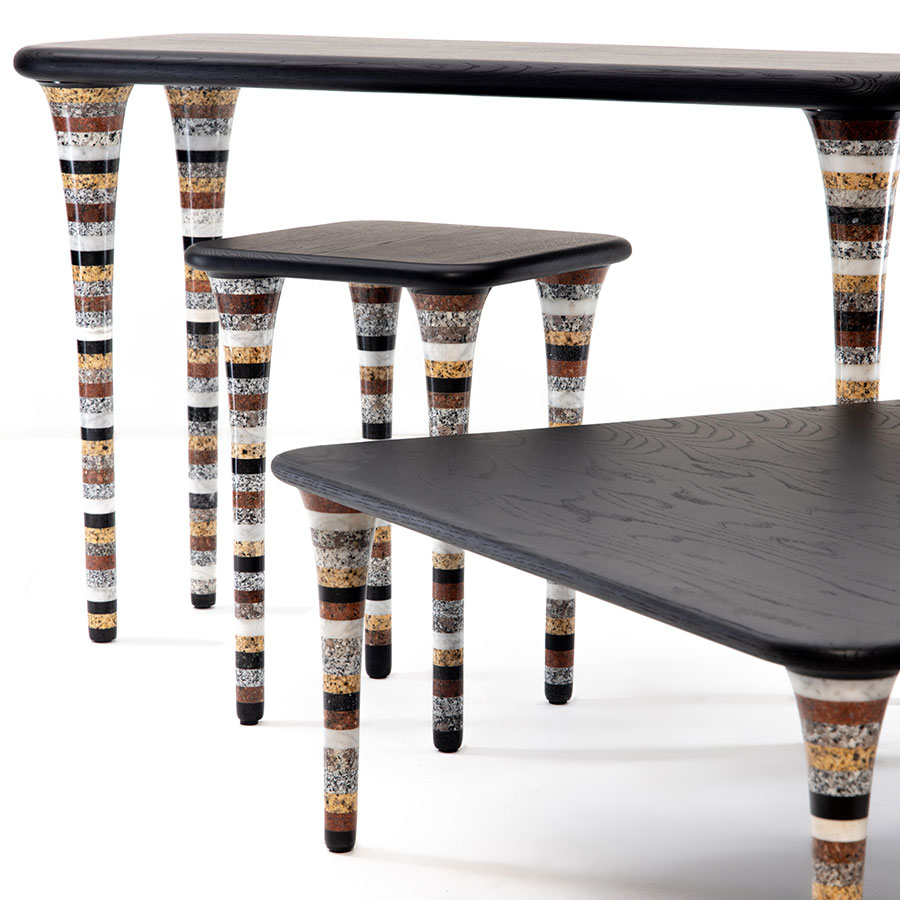 ...I wanted to try and salvage these scraps and release the inherent value found in such a noble material, but in order to so, I needed to get the tradesmen onside too. Working with them directly, I was able to formulate a system that allowed the scraps to be quickly and approximately graded into size, drilled, stacked and "kebabed" over a threaded stainless steel rod that acted as a turning axle for a stone lathe and subsequently to screw the resulting leg into a solid oak table top.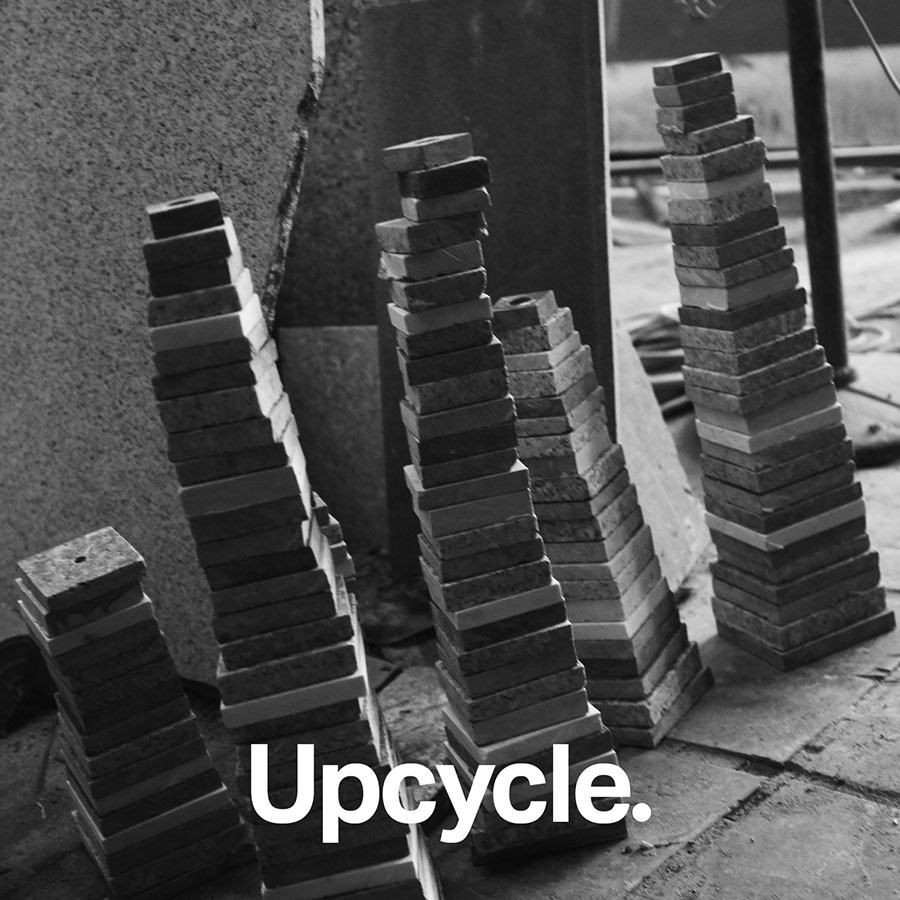 ...The tradesmen could select the stone, marble and granite that they were using at the time so that any waste could offer its otherwise sacrificial potential yield.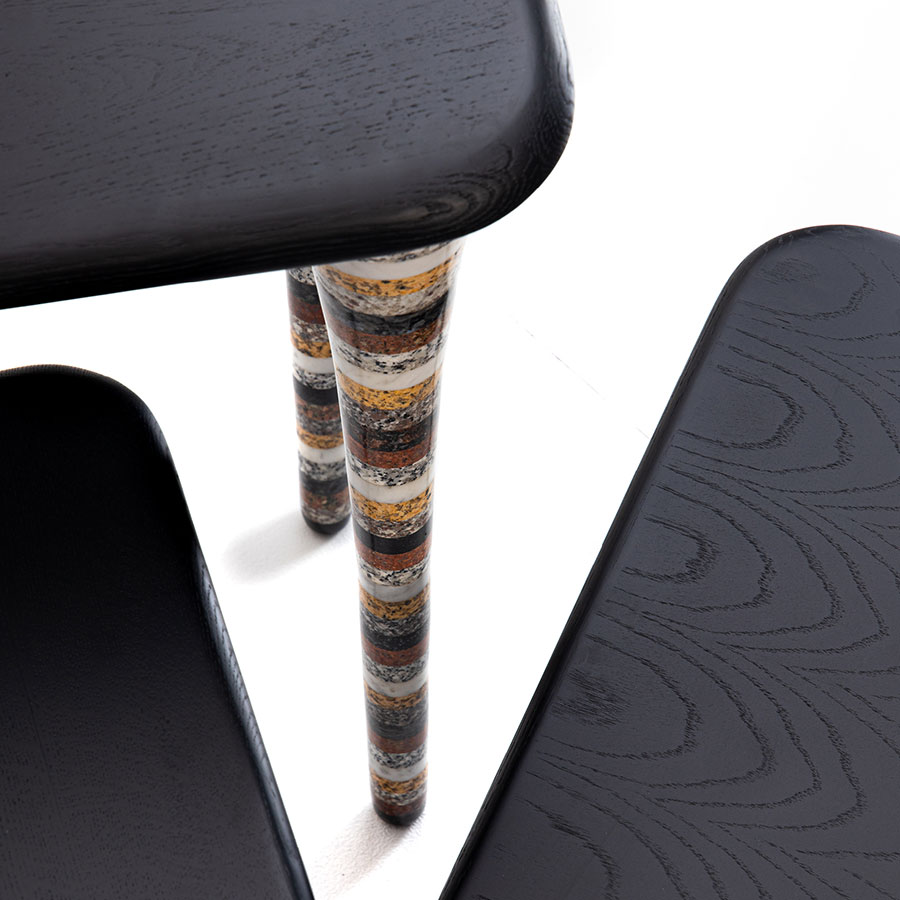 ...With a selection of table leg heights, I decided it was time to offer more shapes and sizes of table top.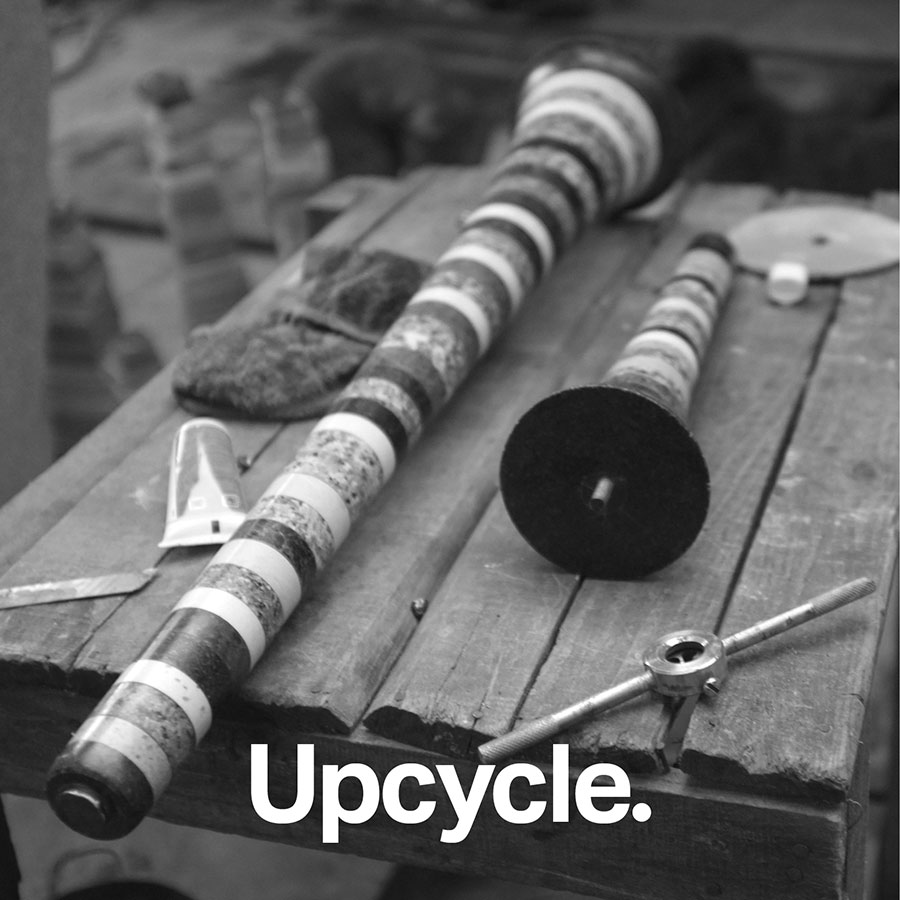 ...The stratifying layers of the marble and granite stone legs shuffle and even contradict their natural igneous or metamorphic states, whilst nevertheless maintaining a powerful nod towards their solid, noble stone material quality."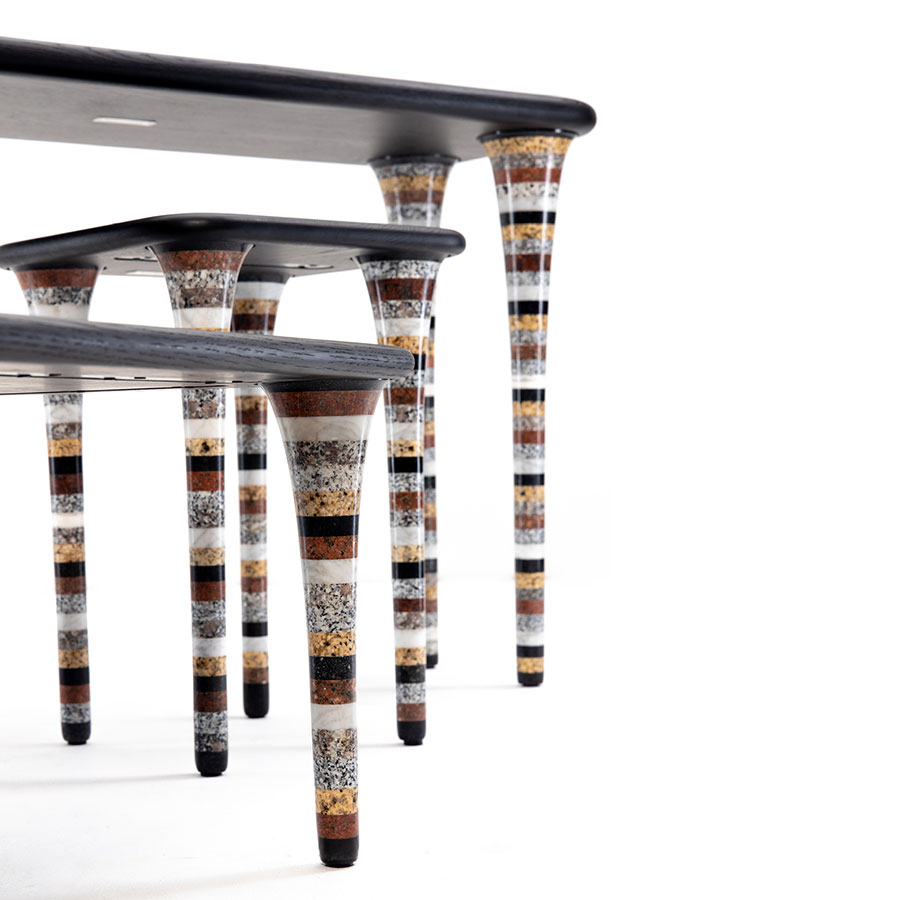 Reeves Design take it as "duty" to always assess the potential to upcycle or recycle where possible. We believe the cost implied due to additional processing time and effort is offset against the efficient use of waste and embracing the designers responsibility to preserve, conserve and attribute value through the ethical application of our skills and experience.
"Perhaps I can't save the world with a table leg, but I believe there is a moral and ethical consideration to at least design with an aesthetic that acknowledges the full sacrifice of material consumption and the consequences that come along with our initial choices as designers."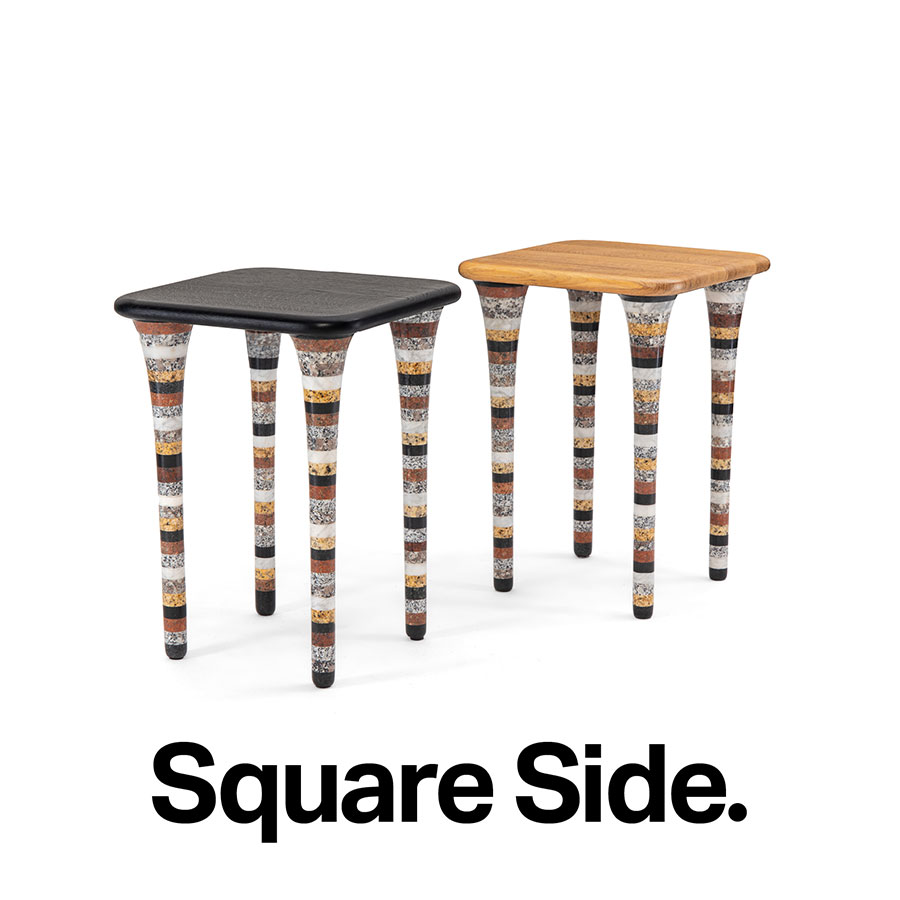 ...There is a beauty in the poetry of paring back and reassessing our resources.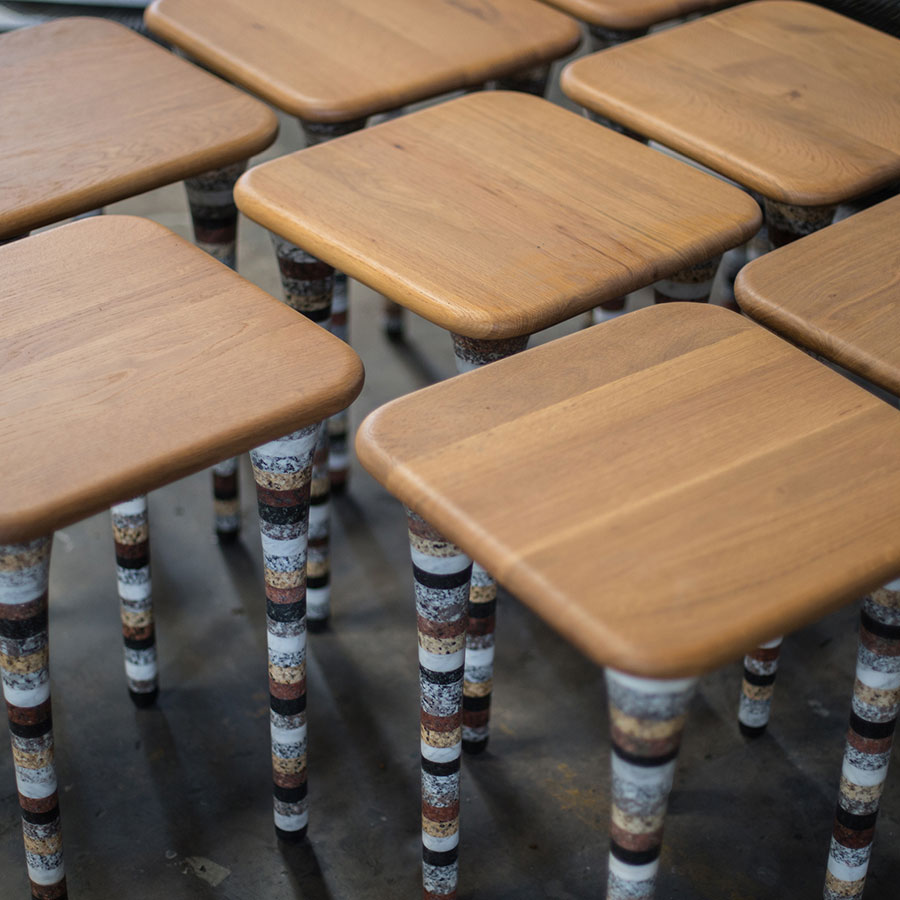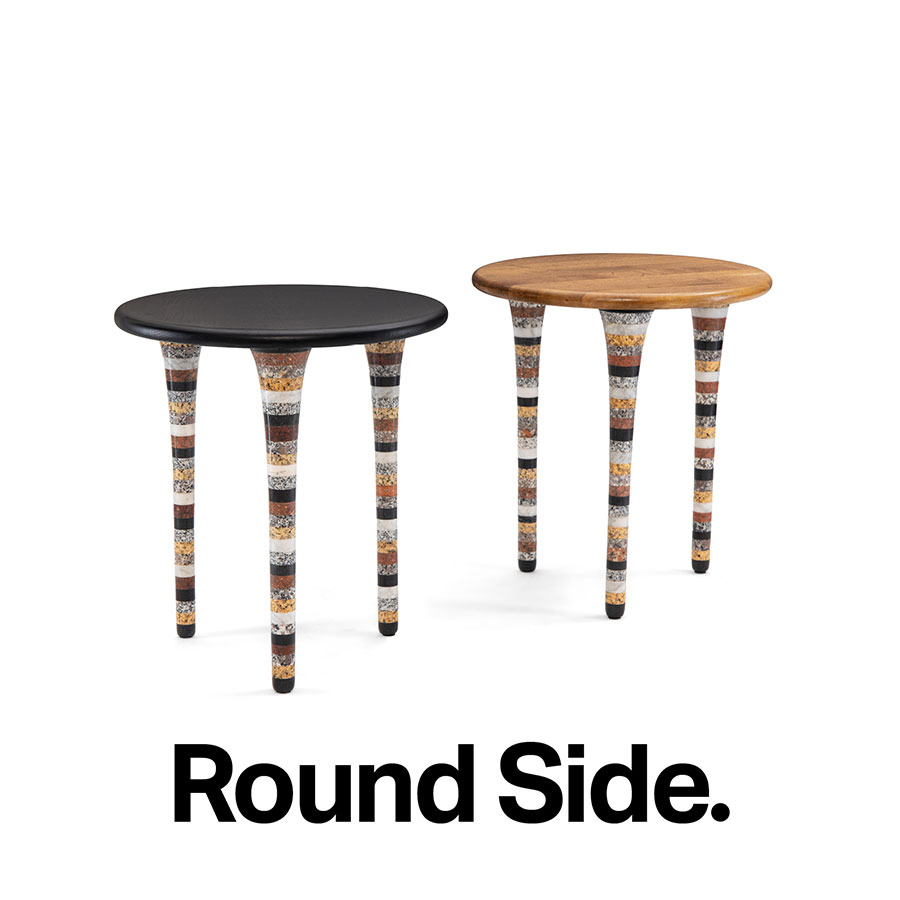 With that said, Reeves' designs are packed with an enduring aspiration to meet the aesthetic and lifestyle ambitions of our current generation, to leave a valid mark of our time and we recognise this is the obligation of all creatives that have a care for impact and legacy. There should not be a compromise in style, aesthetic or craftsmanship in the upcycling or recycling of materials, only a duty to explore a deeper and more considered approach to design and ensure it is future proofed towards the inconvenient and indisputable provenance of waste.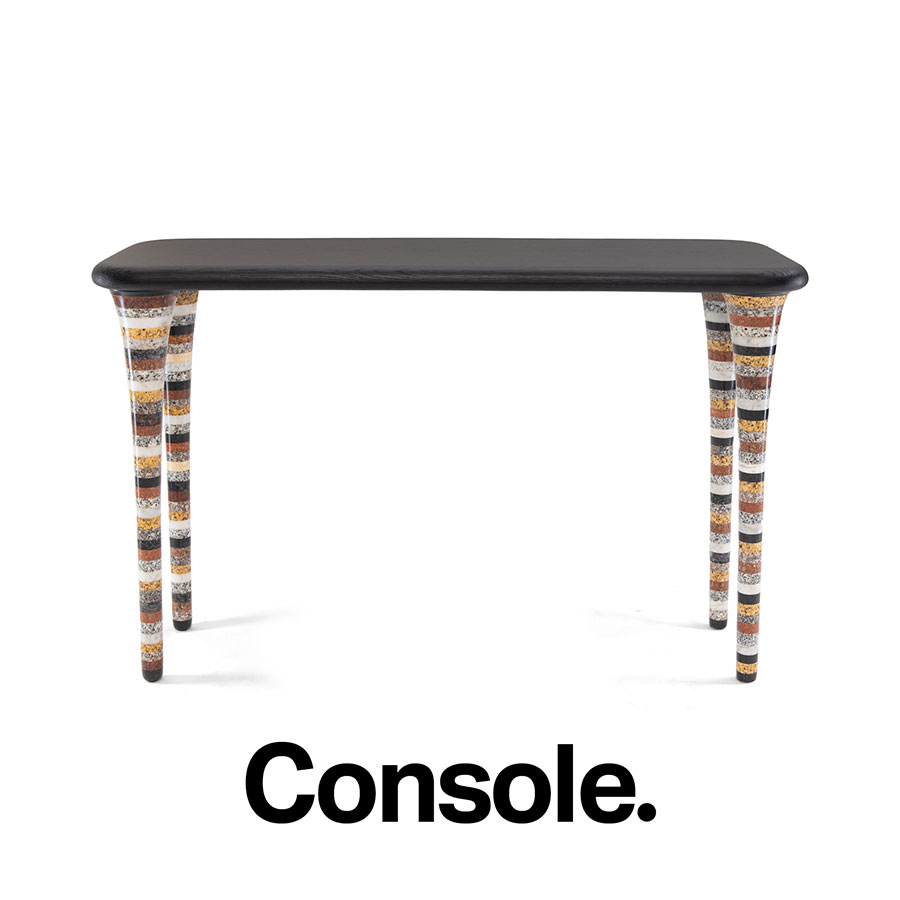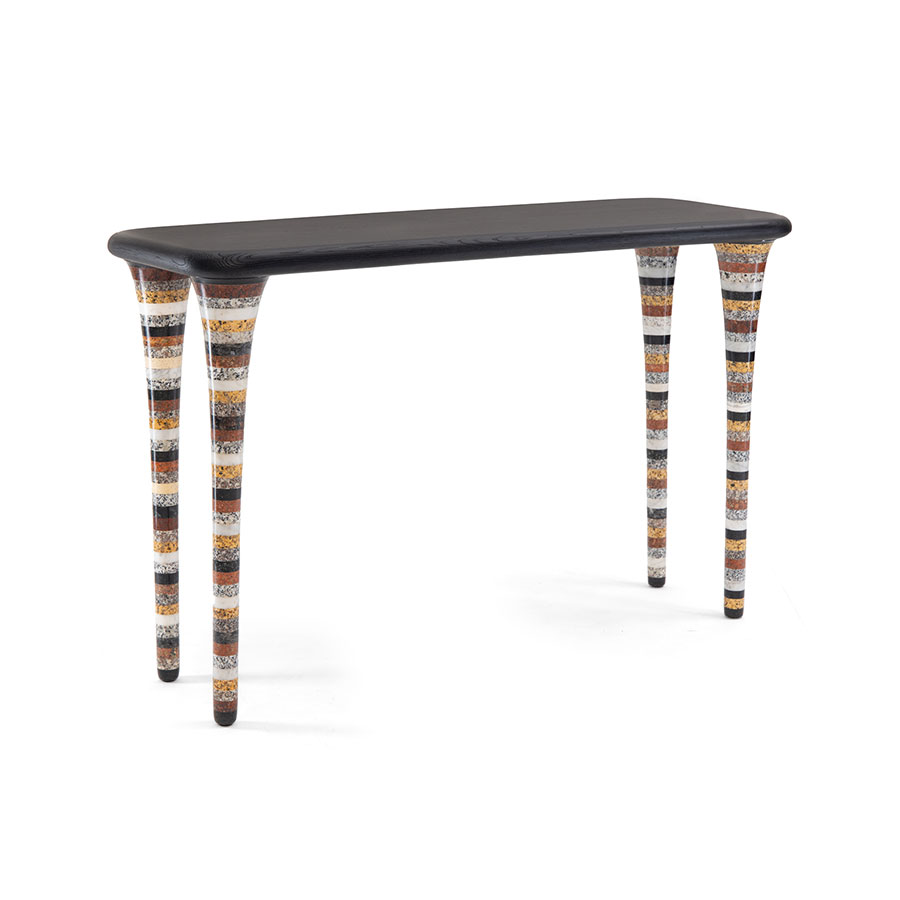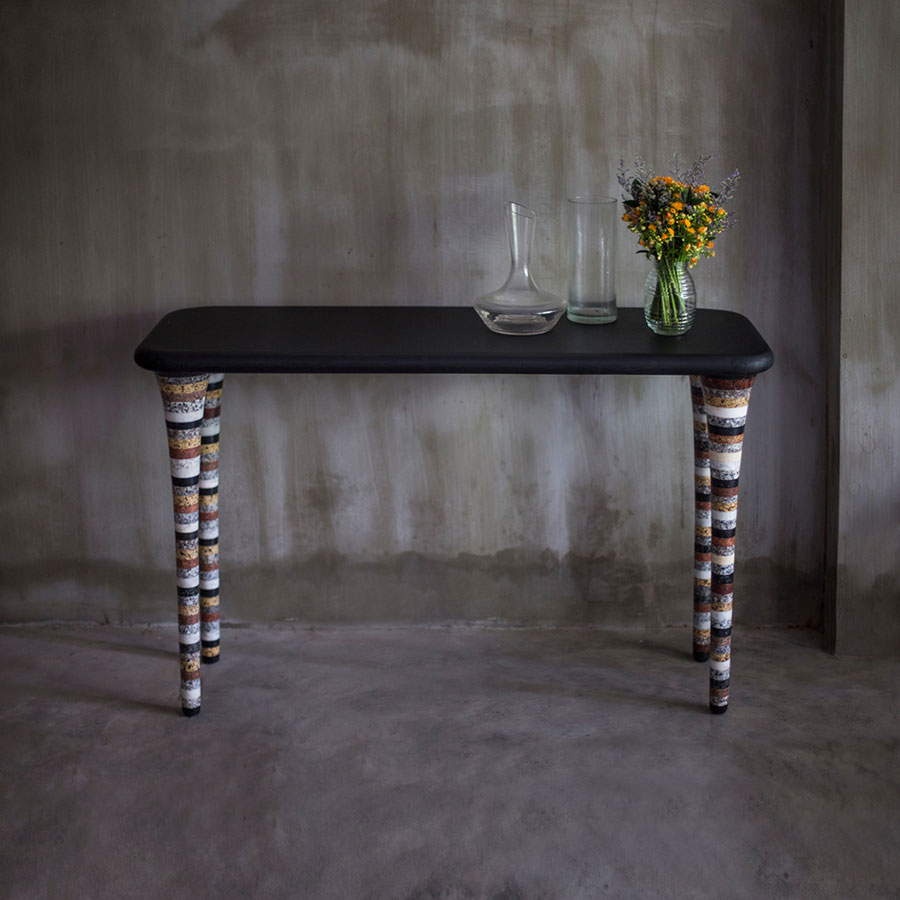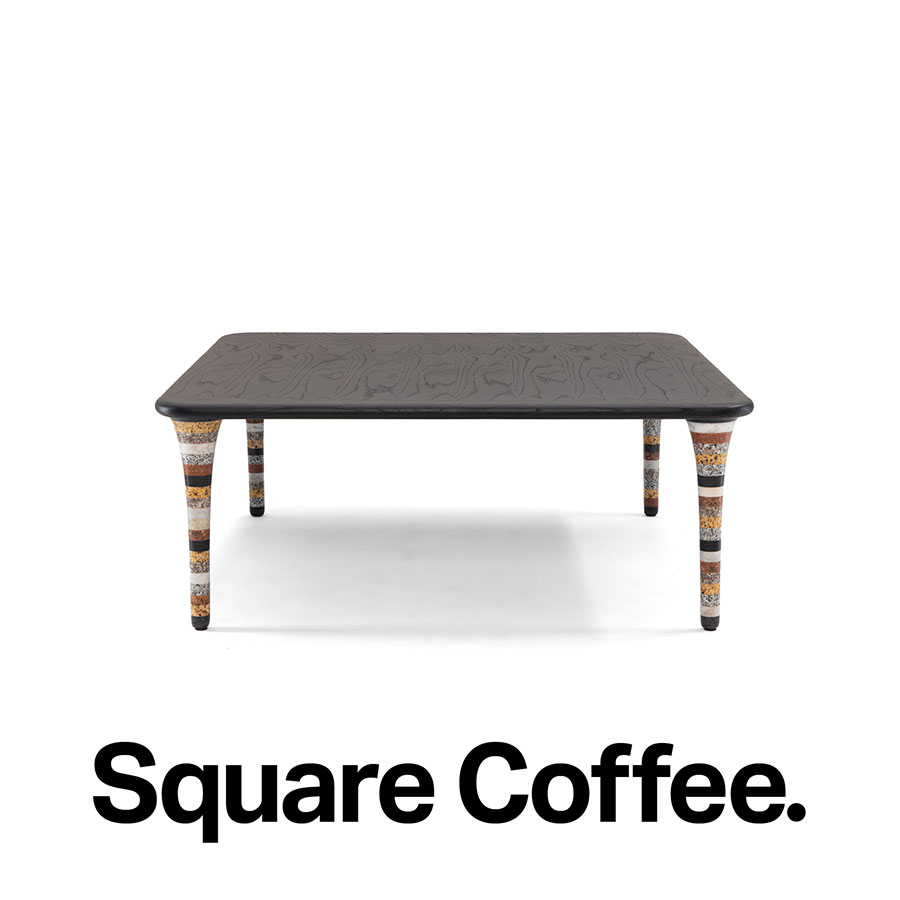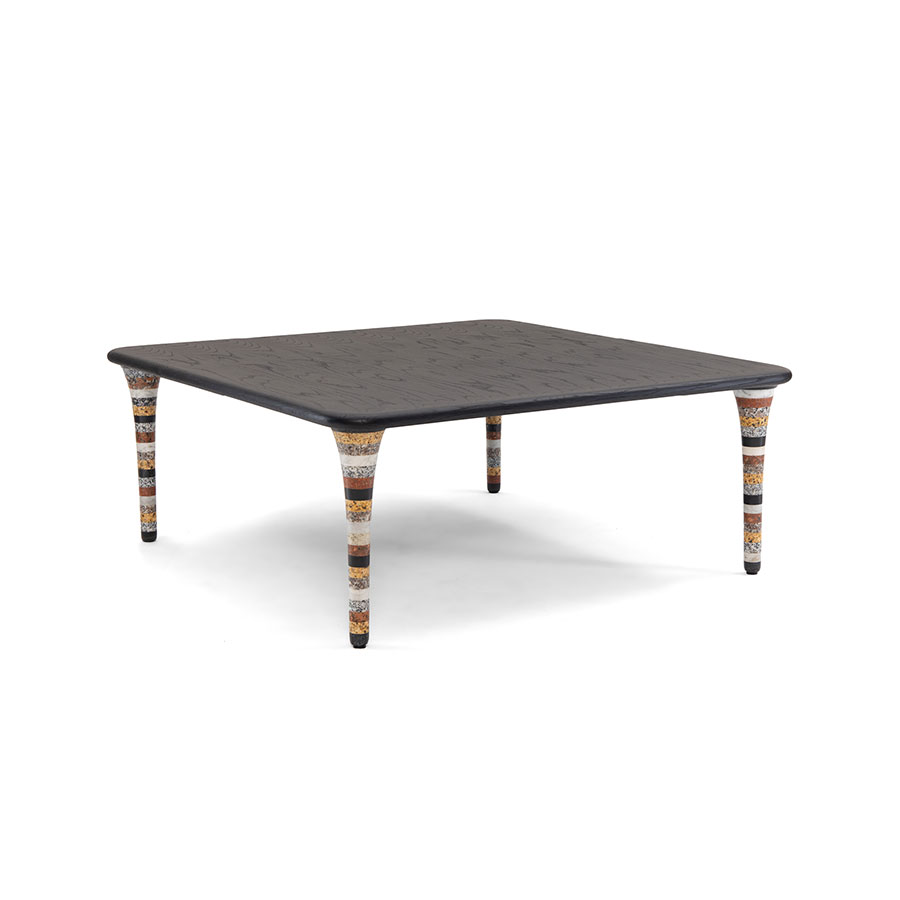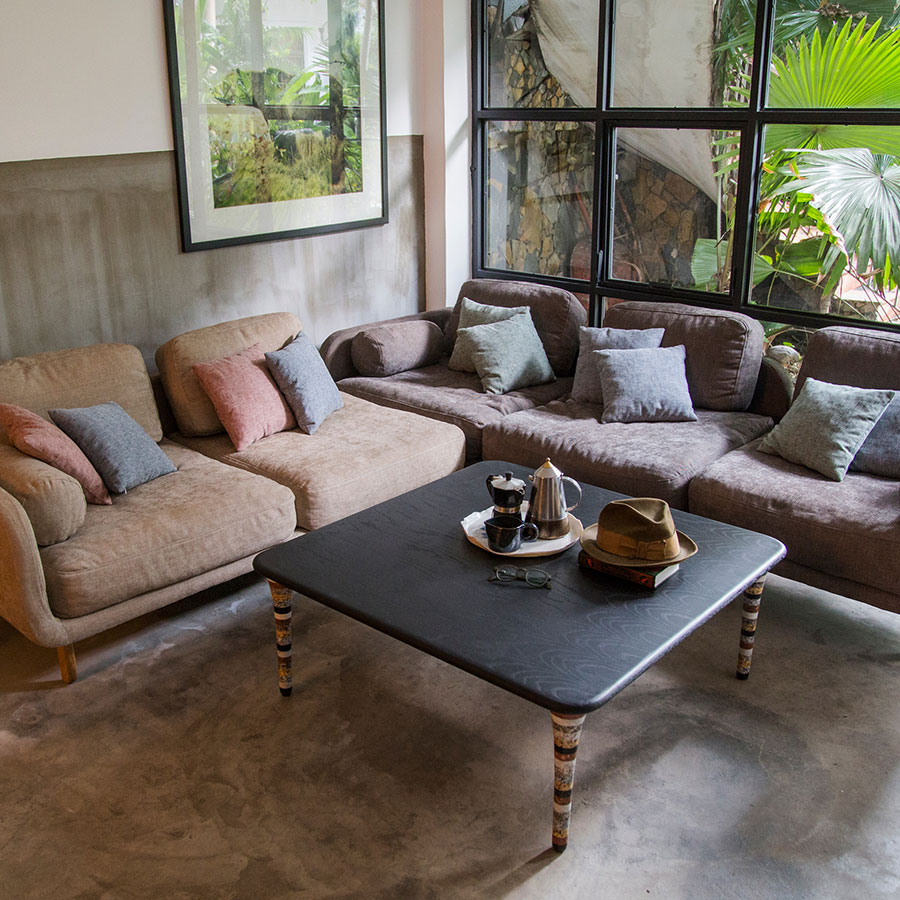 "I hope you continue to enjoy receiving the Reeves Design newsletter which has always intended to be a window into the inspirations that go into each design. However at this current time when it is impossible to make and attend exhibitions in a physical way or even go to showrooms and shops, it has become an essential platform and direct link between our product, brand and customers.

I encourage you to reach out with any projects and dreams that may align with our values and vision as we are still operating, producing and creating. I trust we can harness shared motivation, enthusiasm and more enjoyable considered ways to explore culture and ideas; in doing so continue to evolve designs that look towards a bright future."

John Reeves